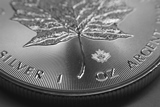 Gold saw its first losing week of the New Year last week, as stocks saw further buying on strong appetite for risk and yields rose. Whether or not this is simply the gold market taking a breather before more upside remains to be seen.
Although much of the recent economic data has pointed to further strength in the economy, Friday's Q4 GDP data was a disappointment. Consensus estimates were looking for fourth quarter GDP to come in at 2.2 percent. The actual reading, however, came in at only 1.9 percent. Trade deficits were cited as a significant drag for the quarter, although the report did contain some positives as well. Personal consumption expenditures, for example, rose at a 2.5 percent pace.
Some analysts believed that the Q4 GDP reading could potentially influence the Fed with regards to its rate hike plans. Although that is a possibility, the miss on GDP was likely not significant enough to deter the central bank from its rate hike plans this year. In fact, the Fed will likely want to see a lot more data before taking action.
The Fed will be meeting this week, and the markets are not expecting any surprises. Chances for a rate hike are extremely low, and even the chances for a March rate hike are very low looking at current Fed Funds futures contracts. For the time being, June appears to be the most likely date for the next hike from the central bank.
Of course, a lot can change between now and then.
The Donald Trump administration has begun following through on some of its campaign promises, and the President has been busy signing executive orders. The executive order signed on immigration is already the subject of much debate, so much so that other world leaders are voicing their opinions.
Trump has signed an executive order banning entrance to the United States from several primarily Muslim countries, and over the weekend numerous people-including legitimate green card holders-were detained at U.S. airports. Others were prevented from getting on U.S.-bound flights.
The action has sparked both praise and utter outrage, and many domestic and world leaders are voicing significant concerns not only about the ban on entrance for people from these counties but also the 120 day suspension of the U.S. refugee program.
There have been numerous protests over the weekend, and unfortunately, this subject will likely remain a fierce topic of debate for some time to come.
It is not clear how markets will react this week, although the divisive nature of the order and very different reactions from people could potentially fuel risk aversion.
The gold market will be paying attention, and investor anxiety could fuel buying in the yellow metal which is viewed as a safe haven asset. The gold market will also likely take its cues this week from interest rates, the dollar index and equity markets. Rising yields could potentially weigh on the yellow metal, although if risk aversion does start to set in, yields could see a decline along with stock prices.
Either way, given the amount of uncertainty being seen surrounding the immigration ban, gold prices are not likely to fall too far even if stocks look strong again this week.