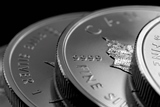 The tough times for gold have continued as prices seem to be languishing around a 12-month low. The bulls have not had a great deal to cheer about in recent months, and prices may yet see fresh lows before the selling pressure subsides.
The good news, on the other hand, is that several of the primary factors that may be currently weighing on gold are likely to abate in the months ahead. A stronger dollar, the potential for a trade war, rising interest rates and strong stocks have all taken a toll on the yellow metal. Market conditions can and do change-sometimes rapidly-and several of these major issues may no longer act as an obstacle to higher gold prices in the near future.
Although the dollar could potentially see some additional upside in the weeks and even months ahead, the greenback is likely approaching what could be a major long-term top. The currency has risen as the U.S. Fed has taken further steps to normalize monetary policy, while some other key central banks, such as the ECB, have maintained ultra-low rate policies. That is likely about to change, however, as the ECB is widely expected to begin taking steps of its own to normalize rates in the months ahead. If the ECB and other central banks join the U.S. in a more hawkish stance, the dollar could lose significant steam as other currencies look to play "catch-up."
Also potentially affecting the dollar could be a top in yields of the benchmark ten-year Treasury note. Yields have been on the rise, but have given back some recent gains after moving above the key three percent level. Yields may make another run at recent highs, but are not likely to climb much, if at all, beyond those levels.
The ongoing issue of trade is an important one, and has likely also played a role in the dollar's recent strength. Despite the recent tit-for-tat standoff with tariffs, it is difficult to imagine a full-blown global trade war taking place for any extended period of time. The gold market could be in a unique position to benefit either way. If trade tensions calm, it may also take some wind out of the dollar's sails, possibly boosting gold in the process. If the trade war does escalate further, gold could potentially see some significant flight-to-safety buying that has thus far been lacking.
In other news, China's latest reading on second quarter GDP came in at 6.7%, basically in line with expectations although slightly lower than the Q1 reading of 6.8%. Concerns over the health of the world's second largest economy have also likely played a big role in gold's lack of upside, as numerous other areas within the commodity sector have floundered as of late. Positive news out of China may help give the gold market a lift, as the metal has shown a recent tendency to move lower with raw commodities. Gold's status as a safe haven asset has been questionable recently, as investors have not shown much interest in the metal despite increasing tensions over trade and many questions surrounding North Korea's willingness to denuclearize. That status can change quickly, however, and any one of several factors could potentially fuel a significant rally in the gold market.