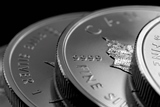 The gold market is seeing a bit of a bounce in early action Monday to kick off the new trading week. Trading volumes remain subdued, however, as many investors wrap up late summer vacations.
The gold market is likely seeing a bounce today as investors seem more optimistic about the potential for a trade deal being worked about between the U.S. and China. Not only that, but it has been reported that some Chinese economic officials are looking to stimulate spending on some infrastructure projects. As one of the globe's largest commodity consumers, any good news out of China could be viewed as being bullish for the precious metals sector.
The gold market is likely to see some significant bargain hunting interest at or near current levels, and it has been reported that physical demand is already picking up in key Asian markets. Although recent declines may attract more buyers, the market may require some significant catalyst to mount a sustainable rally from current levels. A stronger dollar, conflict over trade and strong appetite for risk have all weighed heavily on the yellow metal, and a significant change in current market dynamics will likely need to be seen before gold is able to put in a long-term low.
The recent issues in Turkey and the nation's currency have rattled global financial markets, but have thus far not driven any significant buying in the gold market. Although investors have thus far done a good job of looking the other way, any signs of contagion could once again send waves through global stock markets and potentially fuel safe haven buying in gold and other alternative asset classes. In addition to Turkey and emerging markets risk, there are numerous other geopolitical powder kegs that could also send buyers flocking to the perceived safety of gold.
If things are quiet on the geopolitical front this week, and that's a big "if," markets may turn their focus to the annual Federal Reserve symposium being held in Jackson Hole, Wyoming later this week. Hosted by the Kansas City Fed, the symposium could potentially shed some light on key economic and policy issues that could have a significant effect on markets. Although the Fed has been planning on another rate hike taking place next month, a fourth hike before the end of the year is now less certain. Markets will also be looking for clues as to when the current tightening cycle could draw to a close, as some are now speculating that rates may not be headed to previously anticipated levels.
Any way you slice it, sentiment surrounding the gold market is decidedly negative. There are significant short positions in the market currently, and traders seem to be looking to aggressively sell any decent rallies. Markets can only go down for so long however, as eventually there is simply no one left to sell. The market could be getting to a major capitulation point, and that could make current levels a very attractive place to buy for the patient, long-term investor.