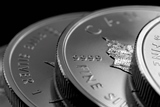 Gold ended the week on a high note and appears poised for further upside. That being said, however, the market could see a pullback as some back and fill trade may be likely given the recent sharp rise in price. In addition, markets do have a tendency to return to breakout levels, and if gold does take a dip it could see aggressive buying.
U.S. jobs data reported on Friday by the Bureau of Labor and Statistics showed the U.S. added 156,000 jobs in August, well below analyst expectations of 180,000 jobs. The unemployment rate ticked slightly higher as well, from 4.3% to 4.4%. Although the amount of jobs added was not a total letdown, the miss in additions along with a slight move higher in the unemployment rate could give the Fed reason enough to reconsider its plans for another rate hike this year.
The notion of ongoing low rates gave stocks a boost on Friday, and may be one of the only things at this point that is keeping the rally in stocks going. Stocks have remained stubbornly resilient in the face of numerous domestic and international geopolitical issues, but you have to question just how much might be left in the tank at this point.
The possibility of no further action from the Fed this year could potentially keep the dollar under pressure, although the greenback is attempting to find a bottom in recent action. If the dollar is able to find some type of base at or near current levels, it could potentially give gold a reason for pause. On the other hand, however, if the dollar begins making fresh lows, gold could see further strength and a rapid rise.
In the absence of any fresh geopolitical news, the next major catalyst for markets could be the upcoming fight over the U.S. Government's debt ceiling. U.S. lawmakers will be returning to Washington this week following a month long recess. U.S. Treasury Secretary Steve Mnuchin has said that it is critical for Congress to act before the September 29th deadline, and some treasury bill investors already appear to be shunning debt that comes due in early October just in case a deal is not reached.
It may be difficult to imagine a scenario in which the government defaults, but it is a possibility that cannot be ignored. While Mnuchin has already said that the debt limit would be raised, the issue is likely to be far more bi-partisan this time around which could make investors nervous. Until a deal is made, it could potentially keep investors on edge, weighing on risk assets while giving perceived safe haven assets such as gold a boost.
From a more technical standpoint, it is looking more and more like gold has made a long-term bottom. Further strength in the yellow metal may potentially draw in more buyers, and any significant dips in the price of gold may be pounced on by investors.