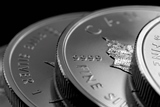 The gold market is getting off to a slow start to begin this holiday-shortened trading week. Despite numerous potentially bullish developments in recent days, gold investors appear willing to book some profits at current levels after prices hit a one month high in recent action.
The upcoming mid-June Fed meeting is likely the main catalyst for any selling in the yellow metal at this point, as investors brace for another rate hike from the central bank. This week will be particularly important from an economic data standpoint, and there will also be numerous Fed officials speaking at various engagements throughout the week.
Although the "Fed-speak" this week could potentially provide further clues about the timing of the next hike and additional hikes to come, the employment data this week will also be very carefully scrutinized.
Friday's Employment Situation report is projected to show an increase of 185,000 jobs in May, with the unemployment rate steady at 4.4%. If this figure comes out in-line with consensus estimates, it would mark the second straight month of solid gains following April's 211,000 rise. A 185k number or better will almost certainly seal the deal for a June rate hike, and it would likely take a very significant miss at this point for the Fed to decide to delay.
The dollar index could also play a major role in gold's fortunes this week as the greenback attempts to stem the recent bleeding. The dollar is in a three month downtrend at this point, and has given back all of the gains seen since the Trump Presidential election victory. Further weakness in the currency could potentially pave the way for higher gold and commodity prices. A more hawkish-sounding Fed, however, could give the dollar a boost and fuel some selling pressure in the metals.
Of course there is also the geopolitical landscape that investors need to pay attention to. President Trump recently completed his first overseas trip as President, and it certainly appears that he is more than willing to shake things up. U.S. relations with key allies may be headed for significant changes, and the future of NATO even seems uncertain.
Potentially significant changes on the world stage are coming at a time when tensions over North Korea and its nuclear program appear to be headed even higher. In another defiant act, North Korea recently tested another missile. Each and every test brings the nation one step closer to gaining the ability to launch a strike on the U.S. mainland or other key regions.
How this situation will play out remains unclear, but thus far the diplomatic route appears to be failing. It seems that the likelihood of some type of military intervention is rising, and the potential for armed conflict could underpin gold prices and other perceived safe havens.
The gold market may seem some selling in the near-term, but buyers may once again emerge following a hike from the Fed. The path of least resistance appears to be higher, and a breach of the recent trading range could potentially set up a significant leg higher in the coming months.